Travel German
vocabulary for travellers visiting German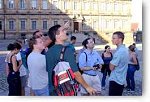 city tour with student
of TREFFPUNKT-ONLINE
Have you already had the embarrassment of travelling a country without knowing a word of the national language? Think about the completely new dimension of experiences that are available to a traveller when he can talk with the locals in their own language! Although most Germans can at make themselves clear with 'a few scraps' of a foreign language, usually English, French or Spanish, you will still benefit from being able to communicate in German. Here are a couple of tips for quick orientation:
Our latest news always on Facebook.com/sprachinstitut.treffpunkt.online
---
German travel phrases and Words
At the service of travlang.com and its page Foreign Languages for Travellers a quick click on your mother tongue and then a click on the flag of the target language will take you to a choice of foreign word lists (structure words, numbers, shop, journeys, directions, places and times). Very easy, basic and open.
You will also find similar lists with standard words and sentences on the following pages:
If you want to get in into the foreign language more deeply, then we recommend buying a special travel dictionary/phrase book. Word lists and simple sentences are normally categorized according to typical tourist situations. If you already know how to speak some sentences in the foreign language, a 'classical' dictionary is recommended because you can finds a specific word to translate faster there. Here are a few further tips on online and offline dictionaries.
Emergency guide: most important words
Emergency help in a foreign country. Nervous that you may not be able to express yourself adequately? With these one page documents you will have the most important words and sentences at hand in case of an emergency (Acrobat pdf format)
Facts about Germany
Besides the classical travel literature a few online services are offering quick overviews about Germany. The information is thus often more up to date. Here are the most important sources in various languages:
Practical travel information
Here we have listed some overviews - mostly with German comments only:
Travel magazine
Gemut.com : Gemütlichkeit: The Travel Letter for Germany, Austria & Switzerland, is published 10 times a year, the only English-language publication devoted solely to travel in these three countries.
Travel literature for German and Germany
A lot of new interesting information appears on the Internet every day. Searches with (e.g.) yahoo.com can help you find these. Suggested search words include:
"travel languages"- - - "German for travellers" - - - "Reisewörterbuch" - - - "Reise Sprache" - - -
"Fremdsprache Reisen" - - - "foreign language" - - - "travel dictionary"...