Job Search Resources Online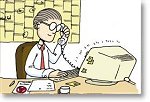 job search on the Internet
Looking for jobs posted on the Internet and then sending an application per e-mail or over an online form is a standard strategy in every comprehensive job search. For everybody on the job hunt it is a good advise to use all kind of research resources and application pathes. Here are some popular addresses for Germany:
Our latest news always on Facebook.com/sprachinstitut.treffpunkt.online
Individuals looking for a job in Germany should be sure to approach the application process with several different strategies. The number and quality of jobs in an export-oriented and high-cost country like the Federal Republic of Germany is very much dependent on the condition of the global economy as well as the successful transport of goods and services. For this reason, it is not surprising that the labor market figures in recent years have been on a roller coaster ride, showing both strong positive and negative trends. For the current year 2019, all employment indicators look good, and to help you in your job search, you should be sure to take note of the following:
global job search
single job search engines


traingerman.com we accelerate your success with German - Effective Online Training for your Job in Germany
international jobsearch
regional job search
job search engines add your own profile
profession specific job search
Python Jobs in Germany by Germantechjobs.de
Steuerberater.com/stellenboerse publishs job advertisements for accountants, assistants and tax consultants online, moreover advertisements for internship positions in the field of tax consulting.
Europe Language Jobs is an online job board specialised in candidates with languages around Europe. We operate as a meeting point for applicants to post their CV and companies searching for individuals working in industries such as Contact Centre, Engineering, Information Technology, Pharmaceutical & Life Science, Sales & Marketing and Shared Services and Finance. We provide applicants access to job offers and other services offered by Europe Language Jobs, and enable them to edit and manage their CV's by means of a private account. Applicants can search and apply for jobs directly through Europe Language Jobs and track the status of their application. Companies are able to publish job vacancies and manage applicants by means of a internal dashboard account.
Vertriebsmitarbeiter-jobs.de and Aussendienstmitarbeiter-jobs.de are contact plattforms for small and medium-sized companies (family businesses), if it comes to sales staff. It is also interesting for young professionals / university graduates who are interested working in sales (even without training). There is also the possibility for applicants to get help for the preparation of the application documents and preparation for the job interview (free of charge for the applicant!).
sehen sich als Ansprechpartner für klein- und mittelständige Firmen (Familienunternehmen), wenn es um die Besetzung von Vertriebsmitarbeiter geht. Interessant auch für Berufseinsteiger / Uniabgänger, die Interesse daran haben im Vertrieb zu arbeiten (auch ohne Ausbildung). Auch gibt es für Bewerber die Möglichkeit Hilfe für die Erstellung der Unterlagen und die Vorbereitung auf das Bewerbungsgespräch zu erhalten (kostenfrei für den Bewerber!).
DV-Treff: Since 1996 they specialized exclusively on job offers for SAP consultants and SAP developers.
IT-Treff: Since 2003 specialized on IT job offers
Job-Treff: job portal for all professions
SwissDevJobs.ch - specialized job board based in Switzerland, with offers for Computer Science and Engineering alumni.
Jobtensor.com - with the goal of an optimized online job search, the Internet platform jobtensor serves as an intermediary between employers and interested applicants from the fields of IT, natural sciences and technology. Potential employees learn interesting facts about their potential future employer through the company profiles. Through a filter job postings can be precisely searched, which meet their own needs.
1A-Aerztevermittlung.de specialized recruitment agency for health care, we have been providing clinics and doctors nationwide as a competent and reliable partner in the field of medical services for 10 years. As a liaison between candidates and employers, 1a-Arztvermittlung mediates clinics, practices and medical care centers as potential candidates and supports on the other side medical specialists in your career planning and the search for suitable vacancies.
Fachaerzte-jobs.de for physicians with a special qualification
Aerztestelle.de with job offers for physicians
AskStudents.de - jobs for students
Ausbildungen.info - here you can search for vocational trainings in Germany
Ccleantechjobs.de - jobs in the enviromental and energy sector
Expat Jobs in Germany - Find expat jobs in Germany at expatjobseeker.de. Are you a native speaker of a foreign language? Post your resume now and let Germany jobs find you tod
Contract Jobs, one of the UK's leading industry contract jobs online advertisers. The Contract Job website hosts a job board that lists over 8000 jobs across all sectors.
Hoteljob-international.de - catering and hotel jobs + application templates and questions for exam preparation
job market for engineers are
Jobtensor.com is a job board specialist on Engineering and Science jobs in Germany.
Jobisjob.de - jobs in the health sector
JOBRUF.de is specialized on the commission of students for various purposes. We are working for private persons as well as companies. The commission of jobs is free of costs for job seekers. We are taking care for payment of fair wages. You can find our job offers at www.jobruf.de/studentenjobs.html
Mathejobs.de - Job market for mathematicians
Medi-jobs.de - jobs in the health sector
Pharma-Zzeitung.de jobs in the pharmaceutical industry
Nebenjob? (part time) or intership at Studentjob.de
Randstad-Professionals.de - specialized job search of Randstad Professionals for IT, Engineering and Management
Servicekraeftejobs.de - Jobs and Careers for service staff: from the waiters to the seasonal worker
Studentenjobs24.de - jobs & internships for students
Sekretaerin.de - office jobs
Teachers

Search Associates is the leading recruiting agency for international teachers. We have assisted more than 35000 educators find jobs in top international schools.
Fremdsprachen-jobs.de (Foreign language jobs) is a job portal for all who use foreign language skills specifically in thier job e.g. as freelancers for foreign language services (interpreters, translators, language trainers, etc.) who are looking for jobs. It's the largest and most active network of foreign language professionals in German-speaking countries.

Timeworkers.de is the largest job board for temporary jobs in Germany. Job seekers can find out more than 60,000 job opportunities. The new jobs were provided by a temporary employment agency. Favorite job searches can also easily be subscribed as "Jobs via email".
Traveling Jobs Now is your go-to job search engine that finds the latest job postings that may involve or require travel. Job searches made easy with Traveling Jobs
Webhosting jobs for webmasters : Hosterz.de/webhosting-jobboerse/
Werbeagentur.de - jobs in the promotion & advertising sector
Umwelt-Jobs - jobs in the enviromental sector
YoungCapital is a young and energetic company and the number one kick starter in the business world. Our goal is to get the best out of young talents and companies. Therefore we offer students and graduates the opportunity to find the right part-time job, full-time job or career start at one of many interesting companies
job application service
Job-Applications.com - Find hundreds of online applications and printable job forms.
Interview questions and answers - job interview questions and answers, skills and advice for successful interviewing
"The Ultimate Guide to Building a CV" contains useful tips, a step-by-step writing guide, and sample CVs to help people craft the most professional CVs for their job-hunting needs. This service is from How2become.com. A unique careers website specialising in public sector jobs. Providing information on careers in the NHS, Police Force, Fire Service, Prison Service and the Armed forces. Their goal is to help people achieve the career they really want by making sure they are fully prepared with all the information they need.
search services and tips of the big German newspapares and business magazines
career networks
Gulp.de (the portal for IT projects)
freelancer networks
TranslatorPub.com job platform for translators, a place for linguists and language professionals. A virtual marketplace to help linguists expand their business and to find their contacts. This includes finding new projects or employment opportunities, hiring additional support from freelance colleagues or just interaction and networking colleagues
Remote.com - work without boundaries. Connecting 2 million+ professionals with remote and freelance jobs using artificial intelligence
company profiles
personnel service provider and recruitment agencies
1a-personalservice.de As a certified personnel services company, we have been supporting employers and applicants throughout the industry for 10 years. We see ourselves as service providers whose competence lies in the individual and personal support and advice of our customers.
intership consultancies


www.learn-german-home-tuition.com - job application trainings for Germany
Career guides
Job fairs and other platforms to start a professional career
Berufsstart.de - the job board with mote than 30.000 jobs for dedicated graduates and trainees
Jobmesse-Radar.de informs about all important job fairs in Germany.
For employers (.. but not only)
KOFA.de is a guidebook about personnel and skilled workers. Focus: small and medium-sized companies in Germany. If you want to be informed about news, you can subscribe to a newsletter
For employers who want to recruit skilled workers abroad, KOFA has created an own category: Kofa.de/handlungsempfehlungen/fachkraefte-finden/im-ausland (all only in German language).
Faktor A is the employer magazine of the state-owned employment agency in Germany. Regularly with current tips publised in their newsletter. (only in German language)
Handwerk-magazin.de - The employer magazine of the German craft industry (only in German language)
By the way...
Speculative applications: You will often hear German job applicants claiming to have sent 50 or even 100 applications without having any success in finding a job. At the same time, many companies receive stacks of applicant mail when they have no concrete need for new employees. For this reason, many people who send "blind" or speculative applications, or who apply to a company on their own initiative will end up with a standard letter of refusal in their mailboxes. However, for individuals who have a special skill to offer or for those applicants who wish to gauge their employability, a blind application makes a lot of sense.
Application training 1-to- : Do you want to leave nothing to chance during your job search in Germany and maximize your opportunities? Have you ever thought about the decisive steps with a personal coach at your side? Then book an job application course in Bamberg or online via online chat like Skype, ZOOM .... You can choose one of the frequently requested standard programs such as "Applying for jobs in Germany" and "Job interview in Germany", as well as an individual coaching according to your special wishes, questions and schedule. Please send us a detailed description and we will make you an offer.
Tips for the job hunt and proper manners
in the German Business world
are given in the book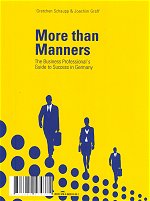 bilingual English / German
www.german-business-etiquette.com
with options for direct book order
Important: We are very concerned about the current internet links. We would be very grateful if you could report dead links to us. Send an e-mail to info@learn-german-online.net.