University study in Germany
- trends with foreign university students -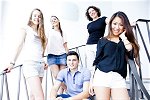 University students in Germany
Students in Germany: So many's never been. Record the following on record to record: In the winter semester 2015 nearly 2.7 million young men and women are studying in Germany. The number of beginner students being somewhat less than 500,000 students. According to forecasts, it remains tight over the next few years at German universities. One reason is that the number of foreign students in Germany will rise.
Our latest news always on Facebook.com/sprachinstitut.treffpunkt.online
Germany is well on its way to an ambitious goal of hosting 350,000 foreign university students by 2020. The figures released by the German Academic Exchange Service (DAAD) show more than 300,000 foreign students were enrolled in German universities, representing roughly 10% of the total university students in Germany in 2013/14. In fact, the number of foreign students in Germany has risen by almost 1/3 during the last 10 years.
This growing enrolments places Germany among the top study destinations in the world, after the US and UK, but contending with China, France, and Australia for the number three rank among major global destinations.
This position has reached Germany in recent years, not only because of its reputation as an outstanding and reliable research and industry location, but also because of the job opportunities and, last but not least, that immigration requirements for foreign graduates have been improved. More specifically:
Students are allowed to work 120 instead of 90 day a year to earn a living costs
After graduating, they can stay for 18 instead of 12 months to seek for a job in Germany
for this period while seeking a permanent position there are are no restrictions for any part time job and the Federal Labour Agency ( Arbeitsagentur.de) do not have to agree
A permanent resident's permit will be granted after two years.
All this points contributes that Germany is an attractive place to study. In a student survey conducted by Germany's Ministry of Education and DAADs the participants identified the following reasons why they opted for Germany:
---
the quality of education (89%)
the acceptance of the German university degree at the international level (72%)
the low tuition fees (68%).
The survey found out further, that three in ten students plan to stay permanently in Germany, and another four out of ten plan to remain for at least 10 years. The DAAD President Dr. Margret Wintermantel. summed it up this way: "The fact that so many of them remain, shows that Germany is attractive for talent from around the world."
Further information about university study in Germany you will find here:
Health Insurace : Germanyhis.com contains detailed and accurate information of Germany health insurace system