Reading tips: read German! books for the respective language levels from A1 to B2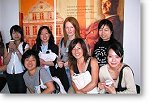 study group in front of a
picture showing Thomas
Mann at Sprachinstitut
TREFFPUNKT
What is your motivation to buy such a book? Whether you read crime, fictions, science fiction, fairy tales, biographies or dramatic stories - to read means you will learn German quickly. With exciting and inspiring texts that matches your respective language level, you learn German in an alternative way.
Mit spannenden und die Fantasie anregenden Texten, die in ihrer Schwierigkeit auf die jeweilige Niveaustufe abgestimmt , lernen Sie Deutsch über eine neue Seite kennen! At the end of the reading texts find language exercises and questions to the text. This way you train your reading aibility and expand your vocabulary.
Texts for the A1 level include approximately 600 words
Texts for the A2 level include approximately 1000 words
Texts for the B1 level include approximately 1800 words
Texts for the B2 level include approximately 2400 words
Please note that some books have CDs included.
#1
Easy Readers
Buerger, Gottfried A.:
Münchhausens Abenteuer

978-3-12-675493-4
7,95 EUR




jetzt bestellen bei amazon.de

order now from amazon.com

order now from amazon.co.uk

#2
Easy Reader A
Kästner, Erich:
Mein Onkel Franz

Lektüre 978-3-12-675443-9 6,95 EUR




jetzt bestellen bei amazon.de

order now from amazon.com

order now from amazon.co.uk

#3
Easy Readers
Rösler, Jo H.:
Gänsebraten und andere Geschichten
978-3-12-675676-1
6,95 EUR




jetzt bestellen bei amazon.de

order now from amazon.com

order now from amazon.co.uk

#4
R. Böttcher, S. Lang:
Erich ist verschwunden

Buch mit Audio-CD
978-3125560055
9.95 Euro





jetzt bestellen bei amazon.de

order now from amazon.co.uk

#5
R. Böttcher, S. Lang, K. Salvador:
Der Fluch der Mumie
Buch mit Audio-CD
978-3125560062
9.95 Euro





jetzt bestellen bei amazon.de

order now from amazon.com

order now from amazon.co.uk

| | |
| --- | --- |
| | Book recommendations for the language level A2 |

#7
Sabine Werner:
Albert Einstein

Buch mit Audio-CD
978-3-12-556013-0
9,95 EUR




jetzt bestellen bei amazon.de

order now from amazon.com

order now from amazon.co.uk

#8
R. Böttcher, R. Hinz, S. Lang:
Die Rache des Computers

Buch mit Audio-CD
978-3-12-556018-5
9,95 EUR





jetzt bestellen bei amazon.de

order now from amazon.com

order now from amazon.co.uk

#9
Anselm Ritter von Feuerbach, bearbeitet von A. Seiffarth:
Kaspar Hauser
Buch mit Audio-CD
978-3-12-556016-1
9,95 EUR




jetzt bestellen bei amazon.de

order now from amazon.com

order now from amazon.co.uk

#10
TATORT DaF
Dittrich, Roland:
Die Loreley lebt!

Leseheft inklusive Audio-CD
978-3-12-556004-8
9,95 EUR




jetzt bestellen bei amazon.de

order now from amazon.com

order now from amazon.co.uk

#11
TATORT DaF
Dittrich, Roland:
Der Schützenkönig vom Chiemsee
Leseheft inklusive Audio-CD
978-3-12-556002-4
9,95 EUR




jetzt bestellen bei amazon.de

order now from amazon.com

order now from amazon.co.uk

#12
TATORT DaF
Baier, Gabi:
Verschollen in Berlin

Leseheft inklusive Audio-CD
978-3-12-556003-1
9,95 EUR




jetzt bestellen bei amazon.de

order now from amazon.com

order now from amazon.co.uk

#13
TATORT DaF
Schurig, Cordula:
Kalt erwischt in Hamburg
Leseheft inklusive Audio-CD
978-3-12-556001-7
9,95 EUR




jetzt bestellen bei amazon.de

order now from amazon.com

order now from amazon.co.uk

| | |
| --- | --- |
| | Book recommendations for the language level B1 |

#16
Theodor Fontane, bearbeitet A. Seiffarth:
Effi Briest
Buch mit Audio-CD
978-3-12-556025-3
9,95 EUR




jetzt bestellen bei amazon.de

order now from amazon.com

order now from amazon.co.uk

#17
Theodor Storm, bearbeitet von R. Vitale:
Der Schimmelreiter
Buch mit Audio-CD
978-3-12-556026-0
9,95 EUR




jetzt bestellen bei amazon.de

order now from amazon.com

order now from amazon.co.uk

#18
Friedhelm Strack:
Veronikas Geheimnis

Buch mit Audio-CD
978-3-12-556028-4
9,95 EUR




jetzt bestellen bei amazon.de

order now from amazon.com

order now from amazon.co.uk

#19
Franz Kafka:
Die Verwandlung
Buch mit Audio-CD
978-3-12-556029-1
9,95 EUR




jetzt bestellen bei amazon.de

order now from amazon.com

order now from amazon.co.uk

#20
Murnau, Richard F.:
Mord im Internet

978-3-12-675720-1
6,95 EUR




jetzt bestellen bei amazon.de

order now from amazon.com

order now from amazon.co.uk

further book recommendations for "Deutsch als Fremdsprache":

We welcome your comments and suggestions. For the purposes of German learners and teachers, we want to extend this page. Please write to:

info@learn-german-online.net