Masthead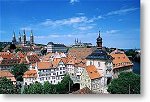 The learn-german-online-web is an initiative of Joachim Graff in cooperation with Alexandra von Rohr, Sprachinstitut TREFF PUNKT Online in Bamberg/Germany. It's operated with the aim to provide basic information for those who learn the German language. Furthermore we want to give an overview of corresponding language and cultural issues in the German-speaking countries.
Masthead
Legal Disclaimer
Unless otherwise indicated, this Web Site and its contents are the property of Joachim Graff (publisher).
The publisher makes no representations or warranties with respect to this website or its content, which are provided for use "as is".
The publisher disclaims all warranties, express or implied, including without limitation the implied warranties of nerchantability and fitness for a particular purpose, with respect to the website and any website which it is linked
The publisher also makes no representations or warranties as to whether the information accessible via this website, or any website with which it is linked, is accurate, complete, or current. Price information is subject to change without notice.
In no event shall The publisher or its employees, agents, suppliers, or contractors be liable for any damages of any kind or character, including without limitation any compensatory, incidental, direct, indirect, special, punitive, or consequential damages, loss of use, loss of data, loss of income or profit, loss of or damage to property, claims of third parties, or other losses of any kind or character, even if The publisher has been advised of the possibility of such damages or losses, arising out of or in connection with the use of this Web Site or any Web Site with which it is linked.
Privacy Policy Statement
This is the website of Joachim Graff
Our postal address is:
Schellenberger Straße 20
D-96049 Bamberg / Germany
Tax Reg No. DE 278 334 180
We can be reached via e-mail at info@learn-german-online.net, or you can reach our representatives by telephone at +49 951 204404. For each visitor to our Web page, our Web server automatically recognizes only the consumer's domain name, IP address and referring site, but not the e-mail address.
The information we collect is used to improve the content of our Web page, used to notify visitors about updates to our Web site and used by us to contact visitors for marketing purposes. If you do not want to receive e-mail from us in the future, please let us know by sending email to us at the above address and telling us that you do not want to receive e-mail from our company. We do not give any information about our visitors to third parties.