Idiomatic expressions, aphorisms, sayings, phrases in German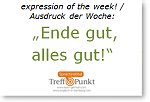 "All's well that ends well. sayings" every week a new phrase:
Sprachinstitut TREFFPUNKT
At first I thought: "but this has one drawback ", afterwards I simply noticed that "I was on the line." But now "All's Well That Ends Well"... that´s how any story might unfold, and the narrator would not even notice how many German sayings he is using..
If someone tries "unter die Lupe zu nehmen" ("to take a closer look") to special wordings, it's hard to find synonyms for some short phrases, without getting lost in long-winded explanations.
Our latest news always on Facebook.com/sprachinstitut.treffpunkt.online
Idioms or idiomatic expressions are something peculiar in any language, because they express complex situations in few, descriptive phrasings. If ..., and only so, if you participate of the same culture and share a similar background of experiences.
But if you are about to learn German, idioms pose a very special challenge. Though similar phrasings might exist in your own mother tongue, not necessarily do they help when, for example, outdated, or old fashioned words are being employed (eg. Pferdefuß). In this case, you have to decipher the meaning of the saying first. This can give you orientation or feed your thoughts, it can be a refreshing silliness or even life coaching.
As part of their recreational activity during their German intensive course, every week language students at TREFFPUNKT are being exposed to a "Quote of the Week". Hence so many interesting conversation arise.....
In order to offer some help on this subject, we have put together an assortment of sources to identify sayings, aphorisms and proverbs and to give explanations and attempts for interpretation. The demarcation between aphorisms, quotes, sayings, proverbs and slogans is quite fluent.
Current: the portal Alumniportal-Deutschland.de offers in the category "Verstehen Sie Deutsch" a quiz with daily new idioms. Rate and discuss with them below under: www.alumniportal-deutschland.org/deutsche-sprache/verstehen-sie-deutsch
Tips for searching idioms and phrases
Aphorisms
An aphorism is a philosophical thought mosaic, formulating a short, rhetorically phrase (maxim, aperçu, quip). Usually the author of an aphorism is known. Other sayings go back to "conventional wisdom", an anonymous story or legend.
Book tips to aphorisms and idioms
Was weiß der
Geier?

Meaning and origin of idioms (in German only)

Warum ist die Leberwurst beleidigt

Proverbs, idioms - and what's behind (in German only)

Mit dem Kamel durchs Nadelöhr

Biblical idioms in everyday life (in German only)

Da wird doch der Hund in der Pfanne verrückt

The funny stories behind idioms in German (in German only)

Auf ein
Sprichwort!

300 of the most common proverbs with their equivalents in English and French (in German only)