German Cuisine and Recipes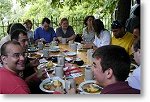 Gemeinsames Mittagessen im
Biergarten
The term "German cuisine" encompasses various cooking styles and dishes, all of which have been developed within the borders of Germany and are now considered "typical". However, every region has its specialties and these are generally based on what the local soil yields. For example, herring with fried potatoes is the favourite food in North Germany, whilst in South Germany you are more likely to be served roast pork and dumplings.
Our latest news always on Facebook.com/sprachinstitut.treffpunkt.online
---
German cuisine
A well known German proverb says: "Taste is a matter of argument", whilst another states that "Whatever reaches the table will be eaten!". In this case: Everyone should try typical German food at least once in order to determine for themselves whether or not they like it.
Our tip: Iif you ask the waiter in a local Gaststätte or Gasthaus for "something typical", please don't expect to be served with haute cuisine. You are much more likely to receive something decidedly large and calorie-rich, usually served with wine or beer depending on the region.
Try it. And DON'T follow another well-known German proverb saying: "The farmer won't eat what he doesn't know". Enjoy your meal! Further info: de.wikipedia.org/wiki/...
Recipes
Some links to collections of recipes on the internet:
Recipes for Christmas
Related topics
---
Book recommandation
---
Did you find the German recipe pages you were looking for?
You can find further sources when searching with the keywords:
""deutsch kochen "- - - "deutsche rezepte " - - - "deutsch kulinarisch "- - - "typisch deutsche kost " - - - "typisch deutsches essen " - - - "deutsche speisekarte "- - ...
It might be best to use a search engine crawling without tracking . Such as DuckDuckGo-Suche:
---
If you have any comments or suggestions, please write to: info@learn-german-online.net
Important: We are concerned about the current internet links. We would be very grateful if you could report dead links to us. Send an e-mail to info@learn-german-online.net.