Practical travel information for Germany
City maps, telephone service, emergency numbers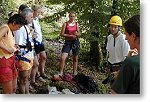 Climbing in Franconian Switzerland (Bavaria)
Compared to other countries, Germany is densely populated and has a diverse, mostly very well-developed infrastructure. Whether by car, by train, by bike or on foot while hiking: In most cases you will find within a few kilometers appropriate options for a secure, uncomplicated and entertaining traveling. For all who are not using nowadays a smartphone while traveling, here are some hints and tips:
Our latest news always on Facebook.com/sprachinstitut.treffpunkt.online
---
City maps online
If you are travelling to a new town and still don't have a navigation system in the car, you can find nearly every street in Germany with few clicks in the Internet. Here are a couple of tips:
First have a look on the home page of the town to see if there is an online map available. Often you will find the latest and most complete road map here. Example: Our home town Bamberg has its map under www.bamberg.info/stadtplan/. Additionally you will find a lot tips about the city and its infrastructure.
For online city map services in Germany look at the following addresses:

Mappy.com with good detail, zoom function and PDA support
At Maporama you can also download maps to your PDAs

For cartographical products and purchase advice the service of Michael Ritz under www.landkartenindex.de is recommended.
Just if you are planning a far journey, it is useful to use the city maps in combination with a route planner.
Phone number wanted
The Deutsche Telekom ´s directory enquiry service offers advice in the telephone network (within Germany):

for phone numbers in Germany : 11833 (alternative: 11881)
for phone numbers in foreign countries : 11834
in English language : 11837
in Turkish language : 11836

phone numbers in Germany : www.teleauskunft.de and www.dasoertliche.de
phone numbers international : www.phonebuch.com
How can I make inexpensive phone calls in Germany?
Simdiscount.de offers various mobile tariffs with no fixed contract term, which offer particular for guests from outside Germany during their stay in Germany favorable conditions.
Phoning economical: Germany & international: www.simyo.de
Which dialling prefixes give the cheapest calls at the moment? Find out at:
Emergency numbers
Emergency service
phone number
Police
110
Fire brigade
112
Rescue service / ambulance
service
1 92 22
Air Ambulance
(Deutsche Rettungsflugwacht)
+ 49 711 - 70 10 70
Poisoning
+ 49 551 - 19 240
+ 49 551 - 38 31 80
www.giz-nord.de
Car breakdown


(-> also watch for the yellow columns on German motorways every few miles)

ADAC: 0180 - 2 22 22 22
ACE: 0180 - 2 34 35 36
Car insurance (central phone number)
+ 49 180 - 25026
"Reiseruf"


(-> for calling somebody via radio in case of emergency or death)

ADAC: 0180 - 5 10 11 12
Has your cell phone disappeared?
Mobile Network
phone number
D1
+ 49 1803 - 30 22 02
D2 - Vodafone
+ 49 172 - 12 12
E-Plus
+ 49 177 - 10 00
O2
+ 49 800 - 55 222 55

If you use a foreign mobile telephone in Germany, you should ask for the direct emergency number before you travel.
If you use a foreign mobile telephone in Germany, you should ask for the direct emergency number before you travel.
You´ve lost your debit, credit or charge card?
Card type
phone number
Visa
+ 49 69 - 79 20 13 33
900 974 445 (international)
Mastercard
+ 49 69 - 75 76 10 00
900 971 231 (international)
American Express
+ 49 69 - 97 97 40 00
ec cards
+ 49 1805 - 021 021
Eurocard
+ 49 69 - 79 33 19 10
001 - 31 42 75 66 90 (international)
Diners Club
+ 49 69 - 26 03 50
0180 - 2 34 54 54 (international)
Have a nice trip :-)
---