Online dictionaries for German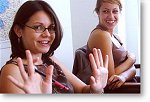 Students in a German
learning group
Classical dictionaries as a paper book are still appreciated by language learners as a reliable and competent reference in class and during homework. Here we presented some sources for online dictionaries but also the most popular books.

Classic dictionaries as a printed book are still appreciated by learners learners as a reliable and handy reference in class and during homework. However, everybody who uses the Internet everywhere on-line dictionaries are the most important references. Here we have collected some sources and also the most popular books in paper:
Our latest news always on Facebook.com/sprachinstitut.treffpunkt.online
Dictionaries on-line
Multi-language translation services
Bilingual: English - German / German - English
Our favourite: the English-German dictionary BEOLINGUS from the Technical University of Dresden. There are over 180,000 entries with many search options, a guest book and an off-line version to download is also available. A similar dictionary you will find at www.ego4u.de/de/dictionary .
The LEO English / German Dictionary with over 190,000 entries. It is very quick and easy to us like our favourite. The special benefit about Leo is that it grows with each visitor - you are also welcome to act as a "volunteer" ;-).
Moreover: You will find many good links to other dictionary services on the web.
Dictionaries as a "book"
To find the best dictionaries or German books we recommend 10toptest.de. Among many dictionaries on offer, these four publishers are most interesting:
There are a lot of dictionaries for technical terms (eg. Electrical, mechanical engineering, traffic engineering and many others) as well as for less known foreign languages. We recommend you make a specific search using a search engine or ask a bookshops.
Note: If a direct order link to a book below doesn´t work, it isn't currently available at Amazon.com. In this case please try an order at Amazon.co.uk, Amazon.de or your local bookshop.
Electronical dictionaries and CDs
The Clicktionary of Cleverlearn.com is a type of dictionary that needs just one click. If an unknown word occurs you just click it and immediately the Clicktionary provides the correct translation in a small pop up window. The download is free!
A similar program is available from www.babylon.com
Translation Services
Translation Service : Language translation service providing the highest quality translation service in all languages across a wide spectrum of subjects.
Please help to keep the listing current. Contact us with your comments and your suggestions: info@learn-german-online.net.
>>> For super-intensive German training: Take part in a German Home Tuition Program in Germany – learn & live in the home of your German teacher