Online dictionaries for German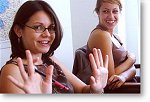 Students in a German
learning group
Classical dictionaries printed in book form on paper are still appreciated by German learners as a reliable and handy reference work in class and for homework. In addition, online dictionaries, spelling aids and synonym dictionaries have become firmly established. We will give you an overview:
Our latest news always on Facebook.com/sprachinstitut.treffpunkt.online
Spell checker for German
In case you are unsure how a word is spelled correctly in German, there are a number of web services that check the spelling and grammar
---
Word meanings, synonyms, definitions
There are special web services for German-German translations and synonyms, some are presented here:
Translation portals, Dictionaries on-line and Apps
Regardless of whether you only want to translate single words or multi-line texts: There are a number of web services on the Internet that can do this job for you in a few seconds. From experience, however, the text quality must be ensured in any case by checking and post-processing. The more literary or even poetic a text is, the more it can be peppered with "wonderful" blooms of style and misinterpretations. So be careful! On the other hand, however, the translation services are a huge help in producing raw texts in the foreign language.
Multi-language translation services
The on-line dictionary from the EU: IateEuroDic lets you translate from and to 13 different languages. You will also find a German/German dictionary. A filter to select different topics and other selection tools make this dictionary very comfortable to use.
Another on-line translation service is: www.online-translator.com, to translate from Russian into other languages. Also check www.yourdictionary.com.
Tr-ex.me is bilingual contextual dictionary, containing translations of various phrases. For each translation, it has examples of using in various sentences.
Dict.com is an unique dictionary portal, which offers 30 languages in 900 language combinations. It's suitable for learning languages, even those languages which are not common. Single dictionaries cover common vocabulary and contain the additional information (contextual notes, prepositional phrases, examples of use, word forms, and so on) that people expect in traditional dictionaries. For English, German, French, Spanish, Portuguese and Italian there are grammar overviews, phrasebooks, pronunciation recorded by native speakers and thematic content suitable for learning.
German Translator Dictionary + is one of the highest-rated language apps for iPhone, iPad and Android. It includes several useful reference tools to learn German. You will find a comprehensive dictionary with over 1.1 million entries, a sentence translator, phrasebook and verb conjugator with over 430,000 verb forms. Download it for free from the App Store or Google Play.
The language portal bab.la offers language quizzes, vocabulary exercises, discussion forums and dictionaries in 11 languages. All users are welcomed to contribute and evaluate new word entries, quizzes and vocabulary lists. The new vocabulary exercises also enable users to compile and save their own lessons as well as publish them for the whole language community.
PONS.eu - the language portal for translations in many languages

German-English-Spanish: www.student-online.net/woerterbook.shtml with 850,000 entries
German-English-French from www.linguadict.de
Woxikon.de: a dictionary for synonyms with 37 Mio. translationes into 22 languages.
Bilingual: English - German / German - English
Our favourite: the English-German dictionary BEOLINGUS from the Technical University of Dresden. There are over 180,000 entries with many search options, a guest book and an off-line version to download is also available. A similar dictionary you will find at www.ego4u.de/de/dictionary .
The LEO English / German Dictionary with over 190,000 entries. It is very quick and easy to us like our favourite. The special benefit about Leo is that it grows with each visitor - you are also welcome to act as a "volunteer" ;-).
Moreover: You will find many good links to other dictionary services on the web.
User tips from my own experience
When translating texts, there is always the risk of incorrectly translating the keyword for a particular context. To avoid this, it has proven useful to search for text examples with the keyword included on Linguee and then to check the selected translation again by translating in the opposite direction with Linguee, BEO LINGUS and / or translate.Google.
---
Activate your learning with audio Flashcards::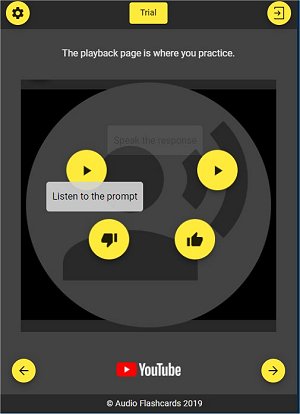 Audioflashcards.app
see our demo on youtube
---
Dictionaries as a "book"
Among many dictionaries on offer, these four publishers are most interesting:
There are a lot of dictionaries for technical terms (eg. Electrical, mechanical engineering, traffic engineering and many others) as well as for less known foreign languages. We recommend you make a specific search using a search engine or ask a bookshops.
Note: If a direct order link to a book below doesn´t work, it isn't currently available at Amazon.com. In this case please try an order at Amazon.co.uk, Amazon.de or your local bookshop.
Translation Services
PoliLingua specializes in translation, localization and managed language solutions for clients both large and small, from corporate, government and private sectors. We're happy to provide free price quotes for any document, user manual, website or software localization project.
Translation Service : Language translation service providing the highest quality translation service in all languages across a wide spectrum of subjects.
Please help to keep the listing current. Contact us with your comments and your suggestions: info@learn-german-online.net.
>>> For super-intensive German training: Take part in a German Home Tuition Program in Germany – learn & live in the home of your German teacher