Jokes, Comics and fun staff!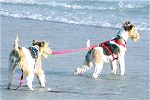 Slowly now, please! Looking at Germany from its humorous side, offers many facets. It ranges from professional practical jokes, which plays status against the newest silliness, through to the classic good joke.
Here`s a small choice:
Unsere Neuigkeiten immer auf Facebook.com/sprachinstitut.treffpunkt.online
Most popular collections of jokes
---
Single "victims"
Comics
Werner: the cult figure from Flensburg between

Horrex

(an old brand of German motor cycles) and Porsche. Also in the cinema and on DVD/Video.
MAD: the most sensible magazine in the world: ask Alfred!
Familie Humbug: Mother provides the erotic and father philosophises about a gruesome family massacre. By the way, you can find out what Humbug means here.
And for children: what Micky Maus is in America Fix und Foxi is in Germany.
Germany's youthful fun staff
Germany's classic fun staff, here a few examples
Loriot: Willkommmen in der heilen Welt. On this graphically good homepage from Loriot, many insights into the state of the German soul are guaranteed!! But be careful: Bring a large shopping trolley with you - behind this is a hidden commercial offer!
By the way: Our favourites are the (two) DVD's (Link to amazon.de) and the CD "Loriots Klassiker"
Otto (Waalkes) and the Ottifanten
Heinz Erhard: Unfortunately there isn't good stuff about this 60's comedy star on the Internet
As a taster here is a small quotation: "Das Reh springt hoch, das Reh springt weit, warum auch nicht, es hat ja Zeit." ("the deer springs high, the deer springs far, why not, it has time" okay, this poem is not translateable ;-) ). And the poem "Die Made".
Gerhard Polt - the original from Bavaria.
Helmut Qualtinger: the multi talent from Vienna: actor, Cabarets, singer, solo performer Latest when he performed his one-man play "Der Herr Karl" - a deep look in the Austrian soul - in New York in the year 1963, he was characterized as "the enemy of Gemütlichkeit" and made his humour unforgettable. Here is his Portrait.
Martin Buchholz (-> a short portrait )
further artists: Dieter Hildebrandt, Die Stachelschweine, Frankfurter Fronttheater, Matthias Belz, Erwin Pelzig ...
Here a small audio and video selection for German learners:
---
If you want too and have the patience to search for more jokes and comics, we recommend use a search engine to help. Here are a few keywords to try out:
"Witz"- - - "Witze" - - - "Spaßmacher"- - - "Komiker" - - - "Satiriker" - - - "Humoristen"- - -
"Elke Heidenreich" - - - "Wim Thoelke" - - - "Peter Frankenfeld"... Auf geht's mit
Important: We are very concerned about the current internet links. We would be very grateful if you could report dead links to us. Send an e-mail to info@learn-german-online.net.


>>> For intensive German training with fun and challenges take part in our German language program in Bamberg / Germany