Encyclopedias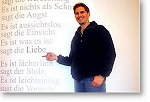 poem on the wall at
Sprachinstitut TREFFPUNKT The time seems to be over, that in every family there is a shelf-filling encyclopedias. Nevertheless, it still has its charm not to surf immediately for Wikipedia, but to take one of the weighty volumes in hand and not only to read what we are searching for, but also to browse a few pages of the same letter. The editors of the encyclopedias mentioned below give some short information for free but detailed explications we be charged always. Almost all Encyclopedias are available in the Internet in the meantime.
Our latest news always on Facebook.com/sprachinstitut.treffpunkt.online
---
In German language
In English language
Visit UsefulResearchPapers.com research proposal collection for those students who study English language and need assistance in writing research papers.
Electronical Encyclopedias
---
Important: We are very concerned about the current internet links. We would be very grateful if you could report dead links to us. We would like to extend this summary. If you have any suggestions please E-mail us at:info@learn-german-online.net.