German Movies and German Cinema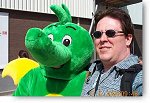 Unfortunately, German cinema and German film has not yet received the international attention it deserves. Although Germany has a number of very good filmmakers and the originality of German films is in a category all of its own. Discover the German film jewels with us.
Our latest news always on Facebook.com/sprachinstitut.treffpunkt.online
---
Cinema today
The current movie premières in Germany can be found at www.angelaufen.de.
Cinema.de offers a German-wide cinema program ("Kinotimer"): You can search for a certain film, your favourite cinema, the time, a certain actor or a special city.
critic.de provides varied information about the medium of film, ranging from reviews of the latest cinema and DVD releases to TV recommendations and specials on film festivals or directors.
The program guides in Germany's mayor cities also publish current cinema programs. Here is a selection:
Regional information for Bamberg: Cinestar and Lichtspiel in Bamberg down town; close to Bamberg are the cinema centers Cinecitta in Nuremberg and CineStar in Erlangen
Portals for German Cinema
Film Festivals
History of Cinema
German Directors
The most popular German actors and actresses
Streaming portals and other pages of interest
Reelgood.com : All your streaming services in one place. Browse, search, and watch TV & Movies from over 150 services, Netflix, Hulu, HBO, Disney+, Prime Video, Free Services and more!
---
The most popular German film hits of the German learners at Sprachinstitut TREFFPUNKT during our afternoon video sessions:
Note for the direct product links:
We apologize if some links shouldn't work directly to the product at Amazon.com and at Amazon.co.uk
The article is possibly undeliverable at present.
Important: We are very concerned about the current internet links. We would be very grateful if you could report dead links to us. Send an e-mail to info@learn-german-online.net