Teaching Material for German as a foreign language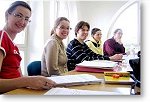 German class at
Sprachinstitut TREFFPUNKT
Here you will find materials for learning German, we have used in our German language classes and references to materials from other sources. So you can
- take a picture of our instructional design
- see how we use texts and
- what learning areas we cover
Our latest news always on Facebook.com/sprachinstitut.treffpunkt.online
---
1. Exercices for upper levels B2/C1
The tasks include:
Word definitions: Synonyms and paraphrases
Questions about the text
Grammar
Text production
explanatory graphics (in part)
Note: All texts are written in the format WORD97
Have fun! - Viel Spaß dabei!
Now our task text:
Bald beginnt wieder die "Kellersaison"...

-

download als -Datei

ein Text für die Oberstufe - mit Erläuterungen zum speziellen Wortschatz - die Lösung senden wir Ihnen auf Anfrage gerne zu:

Mailto:info@learn-german-online.net

.
To download the files in Word format, go with the mouse on the

- icon and save it after clicking the right mouse button with "Save link as "(Save link as ","Ziel speichern unter"...) the file on your hard disk.
2. References to other sources of material
---
Important: We are very concerned about the current internet links. We would be very grateful if you could report dead links to us. Send an e-mail to info@learn-german-online.net.
>>> For super-intensive German training: Take part in a German Home Tuition Program in Germany – learn & live in the home of your German teacher