TREFFPUNKT Students' Guide to Germany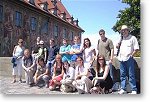 City tour with
Sprachinstitut TREFFPUNKT
Here students will find some useful resources for their study life in Germany. In most cases, you firstly try to socialize, to orient oneself at University, to get a job or to meet other obligations. Here, you will find some ways which might make some things easier.
Our latest news always on Facebook.com/sprachinstitut.treffpunkt.online
---
Note: In order to benefit from this kind of information as much as possible, you should have a solid knowledge of German.
Start to study in Germany
Here are the most practical tips if you decide to study in Germany. By the way: Germany is one of the most attractive locations for international students worldwide because of the safe enviroment and low study costs.
Student networks on the Internet
Participation in a virtual network is indispensable for any student more. Here are the most importants:
Student magazines on the Internet
In every German university and canteen you will find a lot of information on students' everyday life: Learning tips, summer jobs, going out. Here are the online versions of the most popular student magazines:
Online Magazines:
Useful hints for students everyday life
German and international student organizations
Important: We are very concerned about the current internet links. We would be very grateful if you could report dead links to us. Send an e-mail to info@learn-german-online.net.