Tips and advices on German conversation and vocabulary learning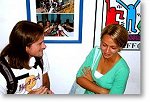 Below are the tips and advice from an expert of language training that he kindly forwarded to us to be published. He currently also learns German and here we provide his original text.
Our latest news always on Facebook.com/sprachinstitut.treffpunkt.online
---
Gerneral tips
I have found important information that may be valuable for all students of German. I have advanced knowledge of German. I have undertaken a thorough comprehensive research on the most effective methods and aids for learning German. Those aids include audios, videos, websites, study books, etc. I want to share with you that information for English speaking students.
Of course, everyday talking in German to native German speakers on a variety of topics helps best in order to be able to speak German fluently. But few learners of German have such long-term opportunity. To eventually be able to speak German fluently, first of all one must have materials with important contents on all everyday topics (audios, videos, printed texts/study books, etc.) for beginning, intermediate and advanced levels of study. The materials must include dialogs, monologs (thematic texts), questions - answers with important contents, thematic lists of difficult word meanings and phrases (expressions) with usage sentences, and comprehensive vocabulary on all everyday topics. I believe that one can master German conversation and vocabulary with the following methods:
One must listen to each sentence in conversations (thematic dialogs) in audio materials several times and see printed texts at the same time, and understand everything in those sentences clearly.
One must read (pronounce) each sentence aloud and compare one's pronunciation to the announcer's pronunciation.
Self-control. One must check if one can say all sentences in dialogs correctly (by translating them from English into German orally). The most important thing is to speak German yourself, and to check each sentence in printed conversations (dialogs) whether you had made any mistakes in speaking. Have you noticed that interpreters have to possess the most thorough knowledge of a foreign language (especially of conversation and vocabulary)? You must achieve that too.
One must also prepare potential questions and answers with important contents on all everyday topics and practise self-control. There are two websites that contain a lot of ready-made questions in English on a large variety of topics: www.esldiscussions.com; http://iteslj.org
One must have lists of difficult word meanings and of phrases (expressions) with usage sentences on every topic and practise oral translation from English into German with those sentences.
One can learn a lot of vocabulary on every topic from thematic German dictionaries. Good thematic German dictionaries also provide a few usage sentences for each word meaning, which is especially important. One must also make one's own sentences with difficult vocabulary. Think about real life situations where and when that vocabulary can be used.
One can also learn German vocabulary by reading thematic texts (materials), first of all on everyday topics with important contents, for example: Practical Tips and Advice to Make Everyday Life Easier and Better (practical solutions for everyday problems). Such self-help books on settling everyday matters are available at book stores.
One must write out unknown vocabulary in whole sentences. One must practise telling the contents of the texts that one has read. As people say, practice makes perfect.
Constant review of material ensures solid knowledge and success in learning.
Aids for learning German conversation
Sprich Deutsch! (Buch von Eduard Engel, Nabu Press, 2010, 278 Seiten).

Gesprochenes Deutsch (Buch von Johannes Schwitalla, Germany, 2006, 246 Seiten).

Communicating in German (3 books by Lois Feuerle, Conrad J.Schmitt).

New Dialogues: English and German ... (book by John Laycock, 2010, 404 pages).

Colloquial German (book by Dietlinde Hatherall, 2008).

Colloquial German 2 (book by Annette Duensing, 2010, 240 pages).

Cassell's Colloquial German (A Handbook of Idiomatic Usage, 1993, 176 pages).

Sprich Deutsch! (Buch von Philip Grundlehner, 208 Seiten).

Living Language Conversational Manual, German (by Genevieve Martin).

Conversational German (book by Living Language Co., 1993, 374 pages).

English Conversation: English-German Phrase Book (by L.Cribbin, B. Schmidt, Germany, 2003, 256 pages).

German Conversation Demystified (book by Ed Swick with 2 Audio CDs, 2009, 256 pages).

A New Guide to German and English Conversation (book by John Rowbotham, 2010, 236 pages).

Topics, Questions, Key Words: A Handbook for Students of German (book by Petra Hachenburger, 2000, 288 pages).
Thematic German dictionaries
(that arrange general German vocabulary by subject matter/topics)
Oxford-Duden Pictorial German-English Dictionary, 1994.

10,000 German words (Oxford Minireference, book by William Rowlinson, full vocabulary for 56 everyday topics, 1994, 384 pages).

Mastering German Vocabulary (A Thematic Approach, book by V.Schnor and G.Forst, approx. 5, 000 words).
Duden Deutschwoerterbuecher sind die wertvollsten nach Meinungen der Deutschfachleute.
Audio and video aids for learning German
Slang and colloquial speech
Streetwise German (book by Paul Graves, Colloquial German, 1994, 270 pages).

Street German-1 (book by David Burke, 1996).

Dictionary of German Slang and Colloquial Expressions (by Henry Strutz, over 4,000 words, 2000, 338 pages).
Scheisse! The Real German You Were Never Taught in School (Gertrude Besserwisser, 1994, 126 pages).
---