Foreign students in Germany
Tips about internships and work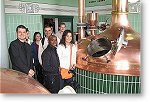 Internship in a Bamberg Brewery
German universities have been popular places for students from all over the world. For some programs you don't even need to speak German, as English is the language of instruction.
Our latest news always on Facebook.com/sprachinstitut.treffpunkt.online
---
There are numerous questions and topics to be dealt with. Contacts with local authorities are inevitable, unfortunately you cannot expect to communicate in English. If something remains unclear, you have to use an interpreter. Also the official forms are often only available in German. If you want to work or do an internship in addition to your university studies, good knowledge of German is a must. In the following, we give a few advice to the issues and questions that might arise:
This page in under construction.
Visa for Germany: contact the immigration authorities
Certificate of enrollment
Internship versus working student "Werkstudent"
Previous professional knowledge
Knowledge of German
German exam A1-A2:

What are the topics?
What do you need?
How do you best prepare?
How do I know that I am prepared enough to pass the exam?

Income & Taxes
The application: cover letter, résumé and documentation
Employment contract with the companies
Change of legal regulations
Loss of job and status
Searching for a job while studying
Job search after graduation
Have you found what you were looking for? If not, please have a look with these keywords: "Ausländische Studierende", "Ausländische Studierende Voraussetzungen", "Ausländische Studenten in Deutschland", "studenbegleitendes Praktikum für ausländische Studierende".
Important: We are very concerned about the current internet links. We would be very grateful if you could report dead links to us. Send an e-mail to info@learn-german-online.net.