Learning German via Internet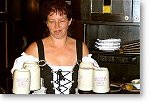 the real Bavarian beer
tasting - only offline ;-)

Nowadays it seems there is no need to take a language course in Germany to study German: almost everything is available through the Internet. Everybody will soon stay at home while studying a foreign language. Nevertheless: as anybody who has learnt a foreign language will tell you, it is obvious that an internet course can't ever replace the language experience gained in the "mother-tongue" country.
Our news always on Facebook.com/sprachinstitut.treffpunkt.online
---
Why is it worth learning a language? First of all to understand and to be understood by people of other nationalities.
For the preparation of a course in Germany and its follow-up after the course for studying texts or simply keeping in contact with the language the Internet offers additional options if someone's goal is:
Undertaking first steps in a foreign language: vocabulary, phrases, basic grammar
Learning independently of fixed times and places
Staying in contact with the foreign language for own needs and fun
Giving more priority to "language theory" and "grammar" than to interaction and communication.
Effective online tuition in German
At the German Sprachinstitut TREFFPUNKT-ONLINE there is not only German tuition in class in Bamberg, but it is offered also One-to-One online tuition via video chat (Skype, ZOOM, teams, meet ...). Before subscribing for a complete package of lessons many people choose first the "test lesson", including 1x45 Minutes of a private German lesson for the price of € 35*. For more information please have a look at TrainGerman.com.
* At TREFFPUNKT-ONLINE you will be taught by experienced, professional German teachers only.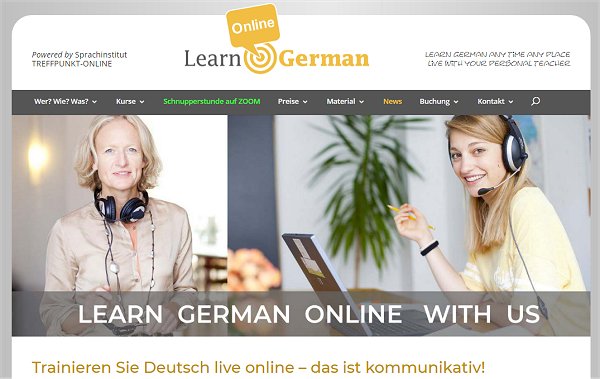 www.traingerman.com
Online learning programs
However the multimedia software and online courses have the advantage of being accompanied by a tutor - if requested. Also independent modules can be ordered. So, the learner doesn't have to buy a pig in a poke, or, as the Germans say "buy the cat in a sack" (die Katze im Sack kaufen).
In the following we have listed some online learning programs which might be interesting for you:
The courses available are getting ever more attractive through constantly improved technology, particularly for the basic steps in A1-B1. In future, texts, audio and video will be better combined to make learning process motivating more fun. But if you "really" want to learn and practice the language, then a resident course will always be the first choice. Here is our offer: Learn-german-home-tuition.com.
Institutions and Organisations
For a contemporary attitude in Germany and Europe we recommend the guide...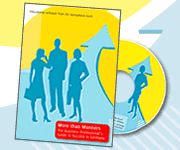 ---
We are interested in your personal experience and learning success. Also if you know other attractive offers. Please write to : info@learn-german-online.net