Route planning online for Germany and Europe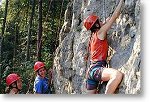 This page is old and will not be longer updated! We apologize!
Popular route planning services on the Internet are:
Here are a couple of practical tips from personal experience:
If search options are offered I recommend you choose the "fastest way" ("schnellste Strecke"). If you choose "the shortest way" ("kürzeste Strecke"), you will be given a route with many slow roads with bends, narrow streets etc. You may see a lot of beautiful landscapes, but the trip can easily take twice the time as the fastest route.
Although the online mapping services are a great help to find the right way, you should always pay attention to the signposts on the roadside and check the way in a conventional road map before and during the journey.
| | | |
| --- | --- | --- |
| | | |
---
Do you know further route planers?
Please write to: info@learn-german-online.net