Job Search Resources Online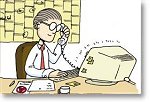 job search on the Internet
Looking for jobs posted on the Internet and then sending an application per e-mail or over an online form is a standard strategy in every comprehensive job search. For everybody on the job hunt it is a good advise to use all kind of research resources and application pathes. Here are some popular addresses for Germany:
Individuals looking for a job in Germany should be sure to approach the application process with several different strategies. The number and quality of jobs in an export-oriented and high-cost country like the Federal Republic of Germany is very much dependent on the condition of the global economy as well as the successful transport of goods and services. For this reason, it is not surprising that the labor market figures in recent years have been on a roller coaster ride, showing both strong positive and negative trends. For the current year 2015, all employment indicators look good, and to help you in your job search, you should be sure to take note of the following:
global job search
single job search engines
international jobsearch
regional job search
job search engines add your own profile
profession specific job search
job application service
search services and tips of the big German newspapares and business magazines
career networks
Gulp.de (the portal for IT projects)
freelancer networks
TranslatorPub.com job platform for translators, a place for linguists and language professionals. A virtual marketplace to help linguists expand their business and to find their contacts. This includes finding new projects or employment opportunities, hiring additional support from freelance colleagues or just interaction and networking colleagues
Remote.com - work without boundaries. Connecting 2 million+ professionals with remote and freelance jobs using artificial intelligence
company profiles
intership consultancies


www.praktikawelten.de - international internship in 25 countries
career guides
Job fairs and other platforms to start a professional career
Berufsstart.de - the job board with mote than 30.000 jobs for dedicated graduates and trainees
Jobmesse-Radar.de informs about all important job fairs in Germany.
You will often hear German job applicants claiming to have sent 50 or even 100 applications without having any success in finding a job. At the same time, many companies receive stacks of applicant mail when they have no concrete need for new employees. For this reason, many people who send "blind" or speculative applications, or who apply to a company on their own initiative will end up with a standard letter of refusal in their mailboxes. However, for individuals who have a special skill to offer or for those applicants who wish to gauge their employability, a blind application makes a lot of sense.
Tips for the job hunt and proper manners
in the German Business world
are given in the book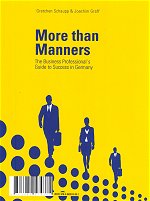 bilingual English / German
www.german-business-etiquette.com
with options for direct book order
Important: We are very concerned about the current internet links. We would be very grateful if you could report dead links to us. Send an e-mail to info@learn-german-online.net.