German Literature and authors online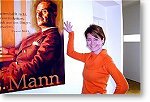 Thomas Mann at
Sprachinstitut TREFFPUNKT
The term literature in German respectively German literatur indicates the literature works in German language of the German-speaking area of the past and present. Please read in Wikipedia how the single epochs in German literature distance from each other. We present in the following some sources and authors specially interested if you are interested in learning German.
Audiobooks in German language
Hoerjuwel.de: Germany's finest audiobooks (www.hoerjuwel.com) Internet audiobookshop offers a wide variety of audiobooks in German language, radioplays and readings also in other languages.
Vorleser.net: Here are many mp3 audiobooks for free to download
Literary Texts Online
Catalogue of Authors, short introduction in life and work
Single Authors
(Subjective selection of the "most important", for information about all the others please refer to the Catalogue of Authors mentioned above)