German grammar exercises on the Internet
- explanations - exercises - resources -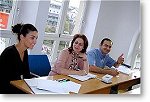 German class at
Sprachinstitut TREFFPUNKT
Here you'll find sources to help you to understand and to practice German grammar. Please write us if you know further sources.
Explanations about German Grammar
Grammar exercises online
Software for grammar training
Note: If a direct order link to a book below doesn´t work, it isn't currently available at Amazon.com. In this case please try an order at Amazon.co.uk, Amazon.de or your local bookshop.
---
Search engine tip:
Multimeta: The Meta Search Engine
- Simultaneous metasearch in the
international and German top search engines.
---
We would like to extend this summary. If you have any suggestions please E-mail us at:
info@learn-german-online.net
.
Important
: We are very concerned about the current internet links. We would be very grateful if you could report dead links to
us
.