Encyclopedias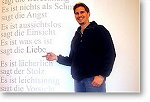 poem on the wall at
Sprachinstitut TREFFPUNKT
Almost all Encyclopedias are available in the Internet in the meantime. Short information is occasionally still free of charge, detailed information is not. Here are some of the most important:
In German language
In English language
Visit UsefulResearchPapers.com research proposal collection for those students who study English language and need assistance in writing research papers.
Electronical Encyclopedias
---
Important: We are very concerned about the current internet links. We would be very grateful if you could report dead links to us. We would like to extend this summary. If you have any suggestions please E-mail us at:info@learn-german-online.net.