Reading tips II: read and learn German!
fictions with exercises for youth and adults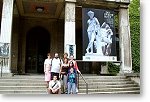 study group on a excursion trip with Sprachinstitut
TREFFPUNKT
In addition to classical textbooks, there are numerous novels and short stories specifically designed for German learners. Below are some novels for the levels A1, A2 and B1.
These books are for young people and adults ► very easy to read for A1 / A2 / B1 learners ► with excitement and a lot of humour ► with many exercises to reading comprehension, vocabulary and grammar ► corresponds to respecting A1 / A2 / B1 textbooks
#1
Hat Benny Glück?

ISBN 978-3-922989-88-2
5,80 EUR

Benny Fein ist glücklich. Seine Familie ist reich. Alle wohnen in einer Villa mit Schwimmbad und Garten wie ein Park. Aber dann passiert ein Unfall mit dem Fahrrad. Hat Benny Glück?

jetzt bestellen bei amazon.de

order now from amazon.com

order now from amazon.co.uk

#2
Testament mit Hund
ISBN 978-3-922989-84-4
5,80 EUR

Svenja und Jan sind das ideale Paar. Harmonie pur! Sie wohnen im Schwarzwald und machen alles zusammen: wandern, kochen, tanzen... Ein Testament ändert alles. Svenja ändert sich. Und Jan hat einen Plan, einen genialen Plan.

jetzt bestellen bei amazon.de

or
der now from amazon.com

order now from amazon.co.uk

#3
Urlaub intensiv

ISBN 978-3-922989-83-7
5,80 Euro

Hanna und ihre Mutter fliegen von Frankfurt nach Spanien. Hanna ist arrogant und findet Leute, die dick sind, schrecklich. Im Urlaub hat sie einen Unfall. Sie kommt ins Krankenhaus, liegt im Koma und denkt, im Paradies zu sein. Das Ende ist eine Überraschung!

jetzt bestellen bei amazon.de

order now from amazon.com

order now from amazon.co.uk

ISBN 978-3-922989-90-5
5,80 Euro

Harry Braun findet sich super. Sein Leben ist interessant. Er ist Reporter und in allen Ländern dieser Welt zu Hause. Oft schläft er in Flugzeugen und Taxis. Fast jeden Tag ist der Journalist in einem anderen Hotel. Er interviewt

jetzt bestellen bei amazon.de

order now from amazon.com

order now from amazon.co.uk

| | |
| --- | --- |
| | Book recommendations for the language level A2 |

#5
Der Sonntag des Schreckens

ISBN 978-3-922989-86-8
5,80 EUR

Timon lernt Deutsch. Er macht einen A1-Kurs und liebt die Sprache schon bald. Und er liebt seine Deutschlehrerin. Bald sind sie ein Paar und leben in München. Timon hat Erfolg und wird reich. Aber dann passiert etwas Schreckliches.

jetzt bestellen bei amazon.de

order now from amazon.com

order now from amazon.co.uk

#6
Der ideale Moment

ISBN 978-3-922989-85-1
5,80 EUR

Franziska ist Sekretärin bei Rechtsanwältin Lea Fritsch in Karlsruhe. Sie ist gern im Büro, weil das Leben mit ihrem Mann Daniel nicht leicht ist. Er kontrolliert sie permanent. Aber plötzlich ist Daniel ganz anders. Warum nur? Das Ende erwartet niemand.

jetzt bestellen bei amazon.de

order now from amazon.com

order now from amazon.co.uk

#7
Mörder in Berlin
Lektüre für Jugendliche und Erwachsene

ISBN 978-3-922989-92-9
6,90 EUR

Was ist denn heute nur im Hotel Adlon Kempinski los?
Das berühmte 5-Sterne-Luxus-Hotel ist eine lebende Legende im Herzen Berlins direkt am Brandenburger Tor. Besser geht es eigentlich nicht. Alles hat Stil und Qualität. Der Service ist exzellent, das Personal perfekt und die Gäste – viele Stars, Künstler, Politiker und andere VIPs – sind normalerweise mehr als zufrieden. Im Gästebuch stehen Namen wie Charlie Chaplin, Marlene Dietrich, Enrico Caruso, Albert Einstein, Dustin Hoffmann, Michael Jackson, Barack Obama…

Aber heute ist im Adlon alles anders. Schlechter Service, Diebstahl und – ja, sogar – Mord. Viele mysteriöse Dinge geschehen. Alles ist sehr rätselhaft.
Und Kommissar Till Schneider hat viel zu tun.
Warum ist heute alles anders? Und vor allem: Wer ist der Mörder?

jetzt bestellen bei amazon.de

order now from amazon.com

order now from amazon.co.uk

| | |
| --- | --- |
| | Book recommendations for the language level B1 |

#8
Ist Paul noch zu retten?

ISBN 978-3-922989-87-5
5,80 EUR

Paul liegt unter Trümmern in einem eingestürzten Haus. Er friert, kann sich kaum bewegen und hofft, dass alles schnell geht. Doch das Warten auf Hilfe dauert lang. Jede Minute zählt. Kommt die Hilfe rechtzeitig?

jetzt bestellen bei amazon.de

order now from amazon.com

order now from amazon.co.uk

#9
Das Geheimnis des Barons

ISBN 978-3-922989-89-9
6,90 EUR

Ein neuer Tag beginnt. Alles ist wunderschön und ruhig – wie jeden Morgen in dem herrlichen Schloss mit 452 Zimmern und riesigem Garten. Luxus pur! Doch dann passiert es

jetzt bestellen bei amazon.de

order now from amazon.com

order now from amazon.co.uk

further book recommendations and text books you will find below www.daf-buch.de (in German) as well as für "German as a foreign language" at Amazon:

We welcome your comments and suggestions. For the purposes of German learners and teachers, we want to extend this page. Please write to:

info@learn-german-online.net