Tips and hints for a successful application in Germany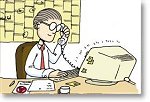 German training at Sprachinstitut
TREFFPUNKT-ONLINE
Here are a few tips on how you can further improve your pronunciation in German.
Our latest news always on Facebook.com/sprachinstitut.treffpunkt.online
---
How to apply
You can either find an e-mail address directly with the job offer to which you can send your application, or you must first create a profile in the company's applicant database. It is advisable not to enter everything directly online, but to check in advance which information is required and to first write and save these texts separately. It has happened too often that a text was written online for an hour, then there was a system error and everything was gone.
Application Process
The application process can vary depending on the job requirement and therefore differs in detail depending on the advertised position. Usually the whole process is as follows:
After receipt of your application you will receive a confirmation of receipt. Depending on the number of applicants and suitability, the evaluation of your job requirement can then take a few days.
If you are shortlisted, you will be invited to a telephone interview in advance or an appointment for an initial interview will be made with you directly.
The interview is usually attended by a human resources officer and the head of the relevant department that advertised the position.
If you were able to convince yourself professionally and personally in this first interview, a second interview usually follows in which the conditions, the employment contract and the working environment are discussed in more detail.
After a successful completion of the application process, the employer makes an offer, usually in writing.
Application Documents
Your application documents should include a cover letter, a curriculum vitae and copies of all relevant certificates, diplomas, internships and further training. The employer is usually not only interested in knowledge and qualifications, but also in interests and hobbies. Keep in mind that with your application documents you are submitting a calling card of your personality. The employer wants to be able to get as good a picture of you as possible on this basis. With your documents you create an important first impression, so make sure that they are complete, clear and error-free. A personal reference person is not common in Germany these days.
Job Interview
If you are invited to an interview, you have cleared the first important hurdle towards hiring. It is now up to you to make the most competent impression possible and to convince them of your qualifications and your personality. Allow about 1 1/2 hours for this interview.
First you will usually be asked to tell something about yourself and your background, including questions about your CV. This is followed by questions about your professional experience and technical knowledge.
In order to prepare for such an interview, it is helpful to find out in advance about the company and the requirements for the position. If you still have questions, you have ample opportunity to clarify them before, during or after the interview. At the end you should clarify by when which further steps will take place. If you have been officially invited by the company, you are entitled to reimbursement of travel expenses. It is best to insure yourself again that the costs will be covered and ask what needs to be taken into account and to whom you should send the statement.
---
You can find more tips on how to apply in the book Business Etiquette in Germany:
What is your experience with job applications? We look forward to your recommendations: info@learn-german-online.net