7 tips to test anxiety in language tests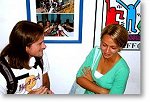 Tests are always an exceptional situation when learning a language. So it is quite normal to get nervous before and during the test. But what can be done about it? Here we give a few tips on how to reduce nervousness and anxiety in language testing and language proficiency exams, and help you achieve better results
Our latest news always on Facebook.com/sprachinstitut.treffpunkt.online
---

1. Become aware of your goals - the right attitude is essential
Become aware of your motives, knowing the purpose of the upcoming exam is a main driver to take the exam as a personal challenge. For some people it helps to look at it like a sporting contest.
2. Examination requirements and realistic self-assessment
What exactly is expected in the language test? What do I already master very good? Where do I still have gaps? What do I need to repeat? These are questions you should ask yourself at an early stage in order to evaluate your own abilities and skills realistically and then determine how much training you need. Especially students who learn a foreign language exclusively in self-study and in their home country, are often grammatically well advanced, but have difficulties in speaking and listening. Without a personal teacher-supported training, these type of students tend to fail particularly in tests B1, B2, DSH and TestDaF, where speaking and understanding are an important part. If you are not really sure about your language skills, you should improve your language competence through individual private lessons with a qualified and experienced DaF* teacher. Lessons can take place locally or online via online chat like Skype, ZOOM ... (eg. www.traingerman.com). * DaF = Deutsch als Fremdsprache = German as a foreign language
3. Planning workload and preparation times
To organize the preparation for an exam, make a general plan and set a weekly schedule with deadlines. This should include learning sessions with a personal language teacher, as well as periods for self-study and working with sample exams.
4. Time to Start
Once you know clearly what you need to study, start early. Learning in time helps you reduce test anxiety because of time pressure. Don´t forget other activities and necessary leisure time when organising your individual learning steps. It makes no sense to ignore personal needs and to study without taking breaks.
5. Learning Success
Verify your learning progress at the end of each training unit. It helps you to become more confident and serene when you imagine and simulate the exam situation with other students. Successful learning includes "active" learning. In other words, do not just memorize a text, but rehearse the situation in different settings and variation of context, formulate questions and identify correlations. Working together with a teacher via online chat like Skype, ZOOM ... is a perfect opportunity for online exam preparation in a creative way.
6. If you lose motivation...
It often happens that students suffer from learning blockade and struggle with a lack of motivation. The solution to these learning droughts are very diverse and vary from person to person. Some people find relaxation and new energy through sport and game, for others it is autogenic training, yoga or progressive muscle relaxation, and still others require professional help from a psychologist. If this is your case, contact your health insurance company first and ask for advice.
7. The exam day has finally arrived – now remain calm
On the day of your exam, you should plan your schedule generously to avoid stress: Get up early, have a healthy breakfast and get on your way early. Be optimistic, but also realistic about the exam. If you are not sure about a theoretical part, do not waste time, but concentrate on the part that you feel comfortable with, competent and safe first. After the exam treat yourself to something you really like, take a walk in the nature, go to the cinema or theater, have a delicious meal .....
We wish you great success!
---