How to apply for a job in Germany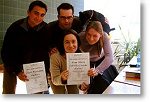 Training for job application
at Sprachinstitut TREFFPUNKT Bamberg
Job search in Germany | Anyone looking for a good job in Germany usually needs strong nerves, staying power, professionalism and tenacity. On this page you will find tips, references and a range of training courses that could be useful for you during the application process. If you have any question or suggestions, write to us.
Our latest news always on Facebook.com/sprachinstitut.treffpunkt.online
---
The labor market in the German-speaking countries is deeply divided. While some industries and employers are desperately looking for qualified employees (e.g. IT or medicine), in other areas the numbers of jobs are continuously falling (e.g. heavy industry, mining, textile). This was the case before the Corona crisis and is likely to continue in the coming years.
Alongside this fact many job data bases and job advertisements often give the impression that there is generally a large, wide range of job opportunities. At first glance, this is very optimistic. However, if you specifically get into the application process for a job, it can quickly become laborious and tedious. You will find that you are probably not the only applicant. Try it!
Our tip: Always apply for your dream job professionally! Avoid every inaccuracy, every mistake. Your application folder, whether online or by post, must be a top class business card of your personality, your qualifications and your motivation.
In addition: Apply, act, react and always respond promptly. Your documents are always geared towards the specific job offer and the qualification priorities presented refer to them. They are serious, authentic, correct and also of the best quality in design. If you are invited to an interview, always act professionally. The book "Business Etiquette in Germany / Mind your Manners" can be a comprehensive guide for you. Here is a summary of some of the topics addressed:
Moreover we offer various individual and group seminars to this topic which you can ideally combine with a German intensive course in Bamberg. Here are the seminar descriptions>>>
Trainings - seminars - recommendations
For sure you will find plenty of tips and examples for the application process on the Internet, but this can be only a loop for preliminary information. When it comes to the preparation of a specific application, you will have to think very carefully about how to formulate your personality profile, your CV and your career goals for the desired position. We have somme offers for those jobseekers who also have to prove corresponding German language skills or who have to take a German exam at the same time:
Tips for the recognition of professional qualifications in Germany
If you have acquired your qualification with a degree outside of Germany, recognition of this professional qualification is often necessary. This applies in particular to medical and nursing professions and medical professionals.
Further tips for the job hunt in Germany
Good luck with your application!
---