Test your German knowledge online!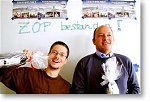 ZOP approved
Sprachinstitut TREFFPUNKT
If you would like to find out how good your German skills are, take a few minutes to complete one of the following level tests.
German level tests online
This is a collection of online tests in the Internet. They can help to define your command of German and are for German learners of all levels:
Offline: German tests on CD
"Übungsblätter per Mausklick". CD- ROM für Windows. Übungsgenerator für Deutsch als Fremdsprache. (Lernmaterialien)
von Max Hueber Verlag
Important: We are very concerned about the current internet links. We would be very grateful if you could report dead links to us. Send an E-mail to info@learn-german-online.net.
>>> For intensive German training: Take part in our German language program in Bamberg / Germany