Learn German with the educational software by Prosonsoft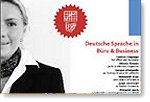 With the german language course "German in everyday life and profession" you will learn german to orientate yourself in Germany quickly and without any problems.
There are many reasons to make your choice in favour of german courses by Prosonsoft:
The german course for learning German has been developed by very experienced German teachers for german as a foreign language (DaF) and german professionals and it has been tested successfully by more than 2000 participants from 28 nations in language schools in germany.
The learning content is based on the Common European Framework of Reference for Languages in the European Union.
Speech repetitions are simple and pronounced clearly by professional german speakers.
Each german course of the educational software comprises 10 units with a total learning time of 60 to 80 hours and far more than 100 german exercises.
A comprehensive german exercise book for each german course helps you learning the german grammar. The new german orthography has been integrated.
An acoustic alphabet system is integrated for the purpose of learning the alphabet, and the german sounding and pronunciation of words.
In the instruction manual in 7 different languages you can find all of the important hints for the easy use of the german courses.
Prosonsoft has a very flexible pricing system for every need and if you are a language school and need more then a few licenses, you can contact Prosonsoft and they can make an individual offer.
And that's how Prosonsoft German courses can be delivered:
If you order it in a store, Prosonsoft will immediately send you the desired software on CD-ROM.
However, after paying for your order, you may also download the german course directly to your computer and immediately start learning.
At the online academy, after your order you receive access to your desired german course for 3 months.